Displays
The Realme X2 packs a 6.4" Super AMOLED screen featuring a waterdrop-styled notch. The resolution is 1,080 x 2,340px resolution making for 19.5:9 aspect ratio and 403ppi density. The panel has rounded corners, as usual, and is protected with a Gorilla Glass 5 piece.
The Redmi Note 8 Pro features a larger 6.53" screen but of the IPS LCD kind. It also has a waterdrop-shaped notch, and the resolution stays the same at 1,080 x 2,340 pixels, and so is the 19.5:9 aspect. Due to the increased panel size, the pixel density has a minor drop down to 395ppi. The Note 8 Pro's panel also has rounded corners, and a Gorilla Glass 5 keeps it safe, too.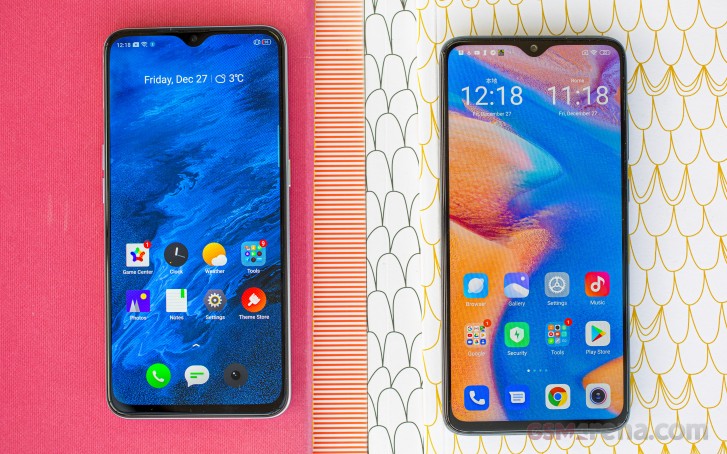 Realme X2 vs. Redmi Note 8 Pro
The AMOLED screen of the Realme X2 doesn't support any special features such as HDR10. There is not even a brightness boost when exposed to bright sunlight, and so 430 nits of max brightness are all you get. Max brightness of AMOLEDs and LCDs should not be compared directly as the two types of screens have different reflectivity and LCDs require higher brightness to produce a legible image in bright light compared to an AMOLED.
Meanwhile, the Redmi Note 8 Pro supposedly has HDR support, but there is not a single streaming app to recognize the screen as HDR-capable. So, as far as HDR support is concerned - there is none here either. But the Redmi Note 8 Pro offers automatic brightness boost from to up to 640nits (up from 460nits). We'd say, this puts the two screen's legibility in bright light on par.
The X2's OLED has an infinite contrast ratio, naturally, while the Note 8 Pro screen offers 1326:1, which is not bad at all for an LCD.
Display test
100% brightness
Black,cd/m2
White,cd/m2
Contrast ratio
Realme X2
0
432
∞
Redmi Note 8 Pro
0.347
460
1326:1
Redmi Note 8 Pro (Max Auto)
0.486
640
1317:1
Both the Realme and Redmi can't brag with color accuracy out of the box - we measured an average deltaE of 6.9 for the X2 and average deltaE of 6.8 for the Note 8 Pro. The Realme, however, can be tuned for a perfectly accurate color rendering if you need it (avg. deltaE 1.7), by switching on Gentle mode in its color settings.
Winner: Realme X2. With the inherent benefits of the AMOLED technology such as deep black and better contrast ratio, and along with the better factory-tuned color accuracy, the Realme X2 display is the winner in this round even if its sunlight legibility is not stellar.
Battery life
The Realme X2 has a 4,000mAh battery while the Redmi Note 8 Pro has a 4,500mAh battery. So as you'd expect, this gives the Redmi a clear advantage in our battery life testing.
Although, it was not by much. The Redmi Note 8 Pro scored better in 3G talks, web browsing and standby, while the Realme X2 beat it only in video playback and our guess is because of the AMOLED efficiency when it comes to blacks and black bars (our video runs in 16:9 aspect).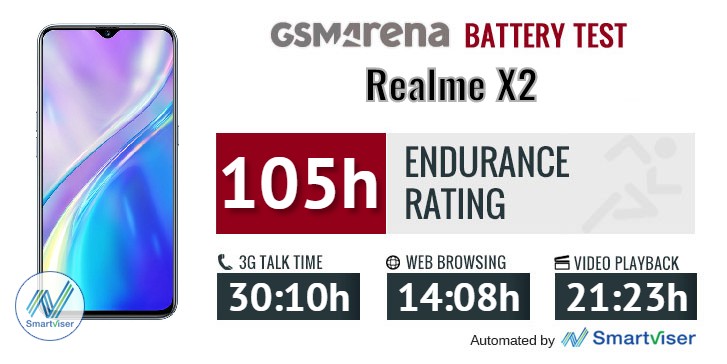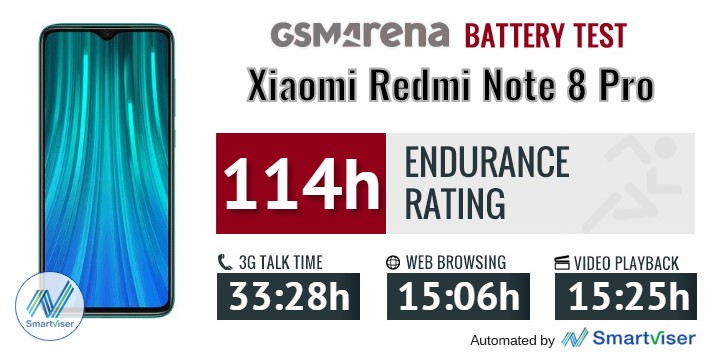 There is a big difference in charging speeds though. The Realme X2's smaller battery and faster 30W charger put it at an advantage, charging to 67% in 30 minutes while the Redmi Note 8 Pro's 18W charger managed 39%. A full charge takes 73 minutes on the Realme X2 and north of 100 minutes on the Redmi Note Pro with its standard 18W charger.
Winner: Redmi Note 8 Pro. While it is slower to charge, it does have the higher endurance rating, and that's the point of this test after all.
Speakers
Both the Realme X2 and Redmi Note 8 Pro have bottom-firing speakers with similar output.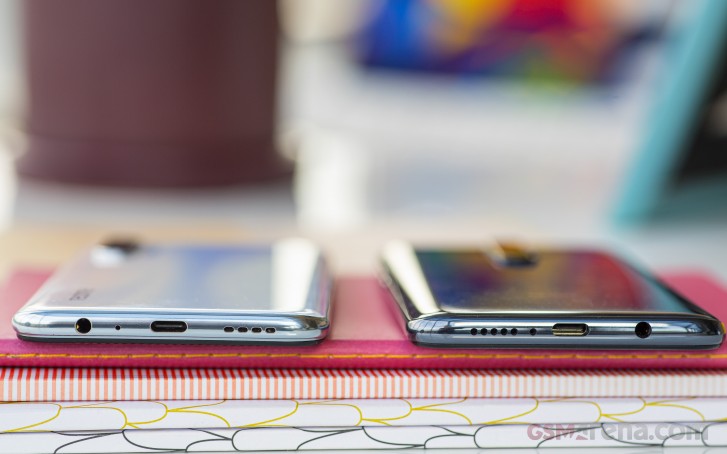 The one on the Realme X2 is a bit louder though and that's why the Realme wins here.
| | | | | |
| --- | --- | --- | --- | --- |
| Speakerphone test | Voice, dB | Pink noise/ Music, dB | Ringing phone, dB | Overall score |
| Xiaomi Redmi Note 8 Pro | 64.8 | 71.2 | 82.2 | Good |
| Realme X2 | 68.5 | 72.7 | 81.0 | Very Good |
Winner: Realme X2
Audio quality
Both Realme X2 and Redmi Note 8 Pro performed brilliantly with an active amplifier, delivering a perfectly accurate output. While both devices offer excellent loudness, the Note 8 Pro has some of the highest volume levels we've measured to date.
The clarity of the output takes a significant hit when you plug in headphones in both the Realme X2 and Redmi Note 8 Pro - stereo crosstalk spikes a lot, intermodulation distortion becmes significant, and the frequency response gets a slight shakiness to it. The volume dropped down to average on the Realme X2, and while it also drops a bit on the Redmi, the Note 8 Pro still remains one of the loudest handsets out there.
| | | | | | | |
| --- | --- | --- | --- | --- | --- | --- |
| Test | Frequency response | Noise level | Dynamic range | THD | IMD + Noise | Stereo crosstalk |
| Realme X2 | +0.03, -0.06 | -92.6 | 92.6 | 0.0020 | 0.0080 | -88.1 |
| Realme X2 (headphones) | +0.30, -0.37 | -87.2 | 91.0 | 0.0081 | 0.356 | -48.4 |
| Redmi Note 8 Pro | +0.07, -0.07 | -93.6 | 93.9 | 0.0022 | 0.0068 | -91.9 |
| Redmi Note 8 Pro (headphones) | +0.26, -0.29 | -92.7 | 93.2 | 0.027 | 0.413 | -48.5 |
Winner: Redmi Note 8 Pro. While the output is the same across the board, the Redmi Note 8 Pro offers higher loudness.