Video quality
Both, the Realme X2 and the Redmi Note 8 Pro are capable of videos in a multitude of resolutions and frame rates. Both phones can record videos in 4K at 30fps, 1080p at both 30fps and 60fps, and both can do slow-motion video with 102fps.
Both the Realme X2 and Redmi Note 8 Pro support only 1080p@30fps video capturing with the ultrawide camera.
Electronic stabilization is available on all 1080p@30fps modes on both phones.
Testing the 4K and 1080p videos at 30fps, both phones are capable of some very good capturing. The resolved detail is excellent in both, contrast and dynamic range are pretty good, too. The Realme X2 has an accurate color presentation, while the clips from the Redmi Note 8 Pro have a noticeable red tinge.
For our tripod test, we kept the stabilization feature on the Redmi Note 8 Pro disabled. The Realme X2 does not let you disable the EIS, which is why the video is slightly cropped in.
We also tested the 1080p videos from the ultrawide cameras. The footage from the Realme X2 might be cropped due to the always-on EIS, but it has far more detail than the Note 8's. And the Realme gets the colors right, while the Redmi splashes everything in red.
Winner: Realme X2. While both phones take detailed videos in both 4K and 1080p with their primary cameras, the Realme offers much better ultrawide videos. And the Realme has much better color presentation than the reddish mess the Redmi offers.
Selfies
The 32MP selfies from the Realme X2 are quite good - the resolved detail is plenty, and even of the dynamic range is low, and the colors are bit dull, those are some very good photos.
The Redmi Note 8 Pro snaps some great 20MP selfies with enough detail, good contrast, and livelier colors though still plagued with that red tint.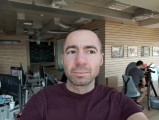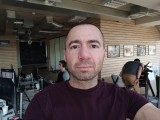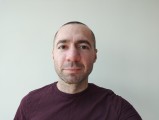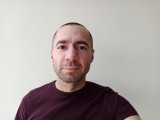 Realme X2 (32MP) ?Note 8 Pro (20MP) ?Realme X2 (32MP) ?Note 8 Pro (20MP)
The Realme X2 also supports Nightscape for selfies, which is something we don't see every day.
Winner: Realme X2. The higher resolution and the Nightscape for selfies secure an easy win for the Realme X2.